Today sees the release of 2 new titles available to view from the comfort of your own home!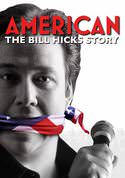 The Chronicles of Narnia: The Voyage of the Dawn Treader – Return to the magic and wonder of C. S. Lewis' epic world in this third installment of the beloved Chronicles of Narnia fantasy-adventure series. When Lucy and Edmund Pensive, along with their cousin Eustace, are swallowed into a painting and transported back to Narnia, they join King Caspian and a noble mouse named Reepicheep aboard the magnificent ship The Dawn Treader. The courageous voyagers travel to mysterious islands, confront mystical creatures, and reunite with the Great Lion Aslan and a mission that will determine the fate of Narnia itself! Available to own, and beginning April 22, it will be available to rent in SD, HD, and HDX!
American: The Bill Hicks Story – Legendary Texan outlaw comic Bill Hicks was and still is an inspiration to millions. A true product of the American dream, his rebellious and exhilarating comedy left no stone unturned and his profound observations on American life were a life changing experience for many who saw him. The story of a son, a brother and a friend, this funny and critically acclaimed film is told 'in the round' by the family and peers who knew Hicks best. Available to rent in SD, HD, and HDX concurrently with its theatrical run!